Sustainable future
Kajaani, the green home of HPC
Reducing CO2 emissions is a globally critical target, to which the location of the EuroHPC machines have a huge impact, as supercomputers consume plenty of electricity. CSC's data center in Kajaani has an abundant supply of low-price and environmentally-friendly renewable power. The benefits of the location also include warm water cooling, which enables waste heat to be utilized in the district heating network of Kajaani, further reducing costs and CO2 footprint.
The CSC Kajaani data center is highly scalable for large hardware installations and extensions or other potential infrastructure, making it ideal for building a sustainable data center ecosystem. The reliable and fast data communications networks of the data center are also designed for HPC. In addition, the area has a unique focus on data analytics thanks to the Kajaani University of Applied Sciences and numerous ICT companies.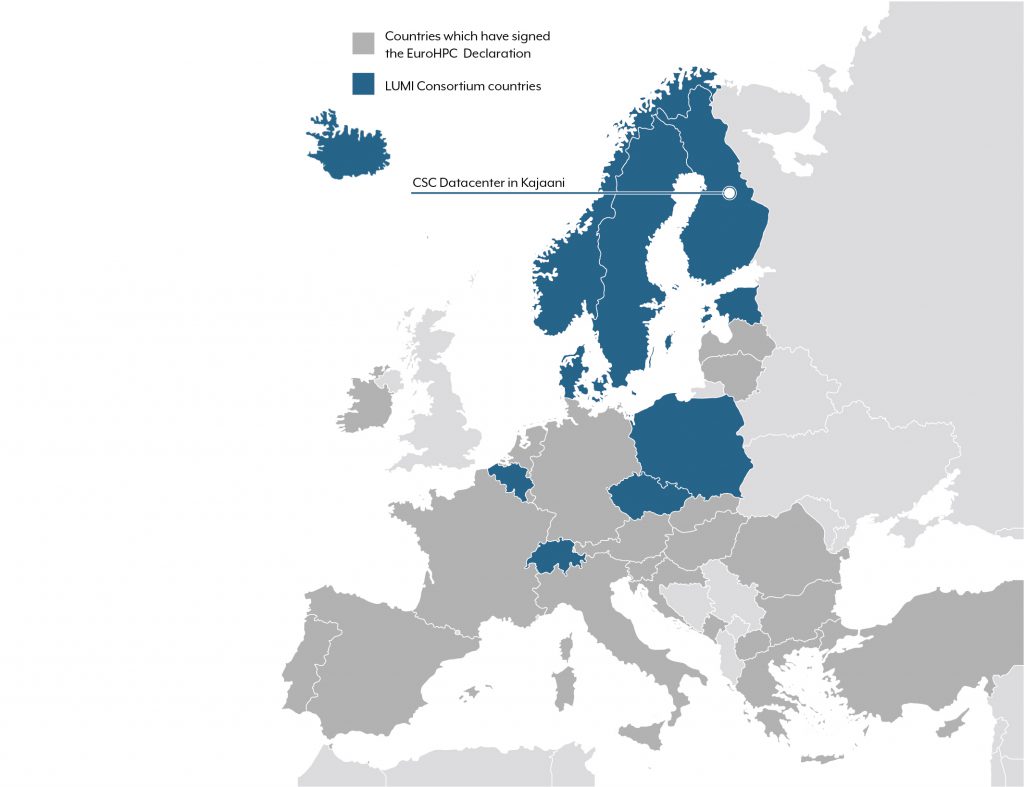 Leveraging the location
Finland is one of the best locations for data centers since it has low operating costs, safe environmental and political conditions as well as extremely high security status. Here are some of the key factors that give Finland its competitive edge:
Total electricity cost for industries is one of the lowest in Europe
Pioneer in telecommunication and internet technologies
Ranked as the most stable and sustainable country in the world
Ranked as the safest place for data centers in the EU and 4th safest in the world
One of the safest and most reliable environments for storing and processing data
Finland and Kajaani are low-risk areas in terms of geographical, weather, political and man-made risks
Why is the CSC Kajaani data center an ideal place for supercomputers?
Plenty of space: 2200 m2 reserved, scalable to 4600 m2
100% renewable, carbon neutral energy is available up to 200 MW
Very reliable power grid: one power outage in the last 37 years
Free cooling is possible all year round
Possibility to utilize waste heat generated by the equipment in the district heating network of Kajaani, this reduces total energy costs and CO2 emissions
Highly capable telecommunication connections: the data center is part of the Nordic backbone network
High security and safety standards